Spinal Decompression in Holland
What Is It?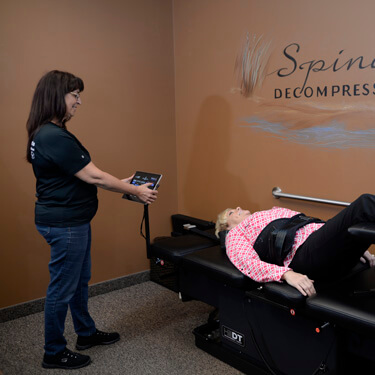 Nonsurgical spinal decompression is a non-invasive treatment for patients who suffer from neck and back problems. The primary goal of spinal decompression therapy is to slowly and gently lengthen or release pressure in the spinal column. As the table pulls and releases, a negative pressure is created in the disc over time. This vacuum change allows disc bulges or herniations and nutrients to be pulled back into the disc. Rehydration of the disc and surrounding structures creates a physiological change which assists the body's natural healing process. Spinal decompression is an excellent and effective alternative to invasive surgery. Here are some conditions that this treatment can address:
Bulging or herniated discs
Degenerative disc disease
Facet syndrome
Failed back surgery
Sciatica
Chronic Low Back & Neck Pain
Radiating Arm or Leg Pain
Our unique program provides you with more than just decompression. We help your body heal by combining multiple therapies in your session. The additional use of laser, manual therapy, whole body vibration, strengthening exercises and other treatments all help to build a healthier spine during your treatment.
What Should I Expect?
Please allow 30-45 minutes per treatment session. Patients typically see results in as little as 6-12 sessions and significant improvement within 20-25 treatments. Research suggests that continued improvement is seen up to four years following a decompression treatment program.
You will remain fully clothed and will be able to lie down during the treatment. Your therapist will fit you with two harnesses: one around your pelvis and the other around your trunk. Using a computer, our team will tailor the treatment to your specific needs.
FAQ
Is spinal decompression uncomfortable?
Our patients who undergo spinal decompression therapy report experiencing no pain. Many will use the time on the table to unwind both mentally and physically. Please note that little pressure is required to realign the spine, so the treatment is gentle and safe.
If I had surgery can I still have spinal decompression treatment?
Yes; we have had success in treating many patients who have undergone surgery. It does, however, depend on the type of surgery you had. Your chiropractor will be able to discuss with you whether you are an appropriate candidate for spinal decompression.
Does insurance cover spinal decompression?
We accept all Insurances but knowing coverages vary we will verify your insurance benefits for you.
Contact Parkhurst Chiropractic today to schedule an appointment!

Spinal Decompression Holland, Zeeland, Ottawa County MI | (616) 392-9500